Description
Doctor-developed formula
Organic & Minimally Processed
High in Protein & Calcium
Keto | Primal | Gluten-free
99% Lactose free
No preservatives
Clean and Simple
Organic milk from family farms
Highest quality strains
Small batch fermentation
No preservatives or added sugar
No gums & thickeners
No artificial ingredients or flavours
24 Potent Probiotic Strains
BIFIDOBACTERIUM: LACTIS(4), INFANTIS. LACTOBACILLUS: DELBRUECKII (2), ACIDOPHILUS (3), CASEI (2), PLANTARUM, PARACASEI, RHAMNOSUS (3), BREVIS. LACTOCOCCUS: LACTIS (4). STREPTOCOCCUS: THERMOPHILLUS. LEUCONOSTOC: MESENTEROIDES.
Ingredients
Pasteurized Organic Whole Milk
Organic Cacao Powder
Organic Madagascar Vanilla Extract
Organic Ceylon Cinnamon
Organic Monk Fruit
Sea Salt
Live & Active Probiotic Cultures
Instructions
The Probiotics are live and active – consume within 5 days after opening.
Keep refrigerated at 34-38°F (1-3°C).
Shake well and enjoy!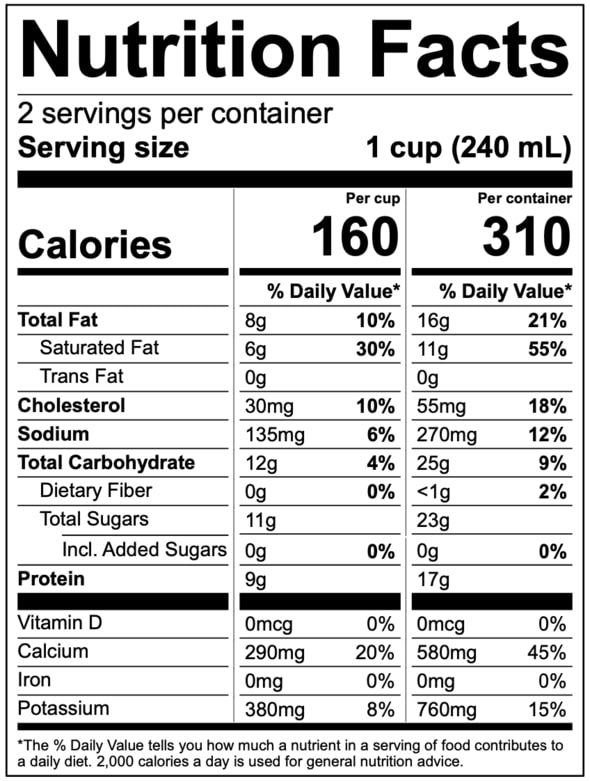 Packaging
Benefits of Kefir
---
Elevate immune system
Probiotics in our kefir act as a shield against the most common diseases and strengthen our bodies from stress and illness.
Maintain healthy weight
Protein in our kefir fills you up and reduces cravings throughout the day. It helps to manage weight, cholesterol, blood pressure, and sugar.
Maintain clear skin
Our kefir contains AHA (Alpha Hydroxy Acid), an ingredient often used in anti-aging and anti-acne skincare products.
Boost digestion
Probiotics help in digesting food and absorbing its nutrients, even for people with difficulties digesting lactose.
Increase productivity
Probiotics in our kefir act as a neural functions regulator; they improve brain performance, mood, and even sleep quality.
Improve mood
Our kefir contains tryptophan, the amino acid that helps increase serotonin(a happiness hormone) levels in your brain.
Enhance bone density
Calcium is great for your bones and teeth health. A bottle of our kefir provides up to 45 percent of your daily calcium needs.
Recover faster
Proteins are essential building blocks of our body. They help us recover faster. A bottle of our kefir contains up to 17g of protein.
---